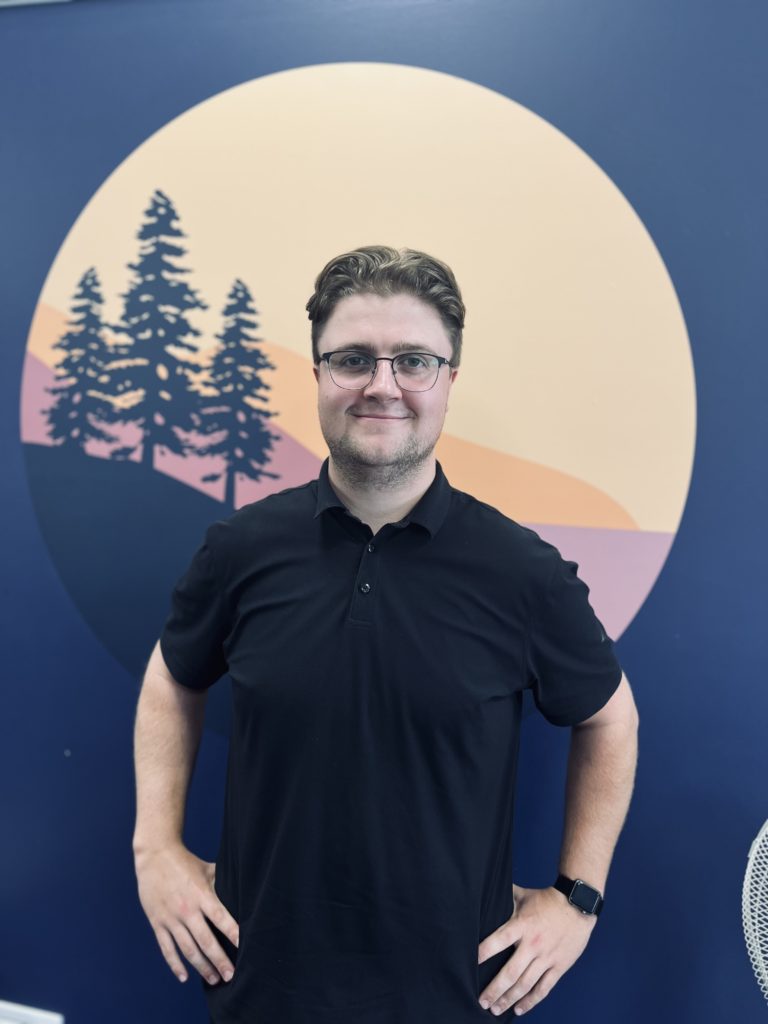 We are so thrilled to have Liam deRoon join our team! Liam is a registered kinesiologist and has already been enhancing our clients' recovery journeys with his movement and strength assessments and active rehabilitation sessions. We are so lucky to have him with us to enhance the rehab process because we know our clients want to get back to the activities they love ASAP!
About Liam
Liam was born and raised on the beautiful Sunshine Coast. He is a registered Kinesiologist who graduated from the University of British Columbia Okanagan with a major in Human Kinetics and a minor in Psychology. He believes a personal, customised exercise plan is a critical portion of a proper, effective rehabilitation program. His goal as a kinesiologist is to promote health and wellbeing, manage, prevent, and rehabilitate injuries. As well as restoring function and optimising human movement to ensure a healthy life. 
When Liam is outside the clinic in the summer months you can find him camping, mountain biking, fishing and exploring the outdoors. When the winter rolls around he will be skiing, playing hockey and snowshoeing with his friends and family. 
What is kinesiology and how can a kinesiologist help?
A Kinesiologist is a University-educated health professional which applies exercise and movement science to promote health and wellbeing; prevent, manage, and rehabilitate injuries; treat illness and chronic disease; restore function, and optimise human performance in an individual's life. Seeing a Kinesiologist, you will work one-on-one with someone who is a Human Movement Specialist that understands how the body moves as a whole and more specifically with injuries, chronic conditions, traumas like whiplash, and complex cases like surgeries and musculoskeletal conditions. This is very beneficial in getting the specific care suited to your needs and lifestyle.
In a Kinesiology assessment, they will analyse and assess the way you move, looking at imbalances, strengths and weaknesses, movement patterns, posture, and functional capabilities. Through their assessment, they will create an individualised exercise program to work on found imbalances and other things hindering your movement. Working one-on-one with a Kinesiologist, you are able to move and learn specifically about your body in a safe, encouraging environment with someone who knows exactly how your body moves.
Kinesiologists provide an important piece of the puzzle to the healthcare system and are an important provider in our communities.
Services kinesiologists offer:
Exercise testing, assessment and prescription to prevent and treat illness or injury
Plans to improve your physical performance in sport, work and activities of daily living
Working within the healthcare team (ie physiotherapist, physician, dietitian) to oversee or assist with the implementation of your individual health care plan
Assess workplace demands and provide workplace design services (ergonomics) to help prevent and/or recovery from injury
Provide support in rehabilitation and wellness management.
If you are experiencing pain, loss of function, loss of strength or endurance you can benefit from working with Liam!
We recommend booking with one of our physiotherapists for an initial assessment if you are experiencing a new injury or onset of pain. After that, your physiotherapist will make an appropriate plan, which may include an assessment or rehabilitation sessions with Liam …and if it doesn't you can always ask! 🙂
However, if you are looking to have a functional assessment and get started on a specific exercise or rehabilitation program, you can book directly with Liam for a kinesiology assessment!
More questions? Give us a call or email!